Pete Ardron
Unexpected Pleasures
with Teresa Gabriel, Psibindi, Onyx Ashanti, Sayak Mitra, Myo, Samantha Ray, Harmony Yemanya & Helen Francis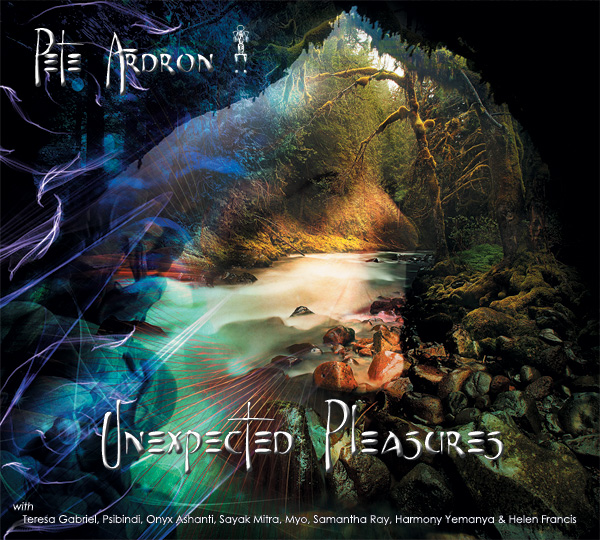 Pink Hampster Recordings PHCD12
Audio album taster:
https://soundcloud.com/peteardron/unexpected-pleasures-taster-mix
https://www.mixcloud.com/pete-ardron/pete-ardron-unexpected-pleasures-album-taster-mix
Video album taster
Pete Ardron (of Orchid-Star) releases his 10th solo album (with guests) on Nov 4th 2016.
Call it Psybient/Psychill/Psydub/Ethno-chill/World-fusion or whatever, this shows the usual signs of Pete's main influences - psychedelic, classical (from the turn of the 20th century), and world music, with a strong Indian influence running through much of it.
Musically it carries on very much where Orchid-Star's Birth left off. Having been persuaded to take the band more uptempo for the 2nd album (Faster), Pete started this album at the same time, finally finishing it a decade later.
It is a chocolate box full of gorgeous and very different guest performances, from the epic Hindi/Urdu torch song Mera Dil (my heart) – almost 9 minutes of stunning, passionate wall–to-wall vocals from Psibindi - to the entrancing, quirky, random incursions of deaf vocalist Helen Francis into the gentle, dubby title track, sharing the vocal credits with the beautiful morning song of a Scottish blackbird.
Orchid-Star vocalists Samantha Ray and Myo also feature along with 2 tracks from radiant Portuguese singer songwriter Teresa Gabriel, flautist Harmony Yemanya, a bewitching, genre-blending collaboration with beatjazz wind-control virtuoso Onyx Ashanti (Soul II Soul/Basement Jaxx) who also appeared on Birth, and a cover (the first Pete has ever done one) of Ami Tar Thikana Rakhini – a big Bengali hit for Manna Dey in the 1960s, with newcomer Sayak Mitra.
"It's not often, that upon hearing a new album, you have that certain and immediate feeling that what you are listening to is already a classic, a game changer, a marker for others to follow..." Ian Taylor (Liquid Lounge)
"Nothing Unexpected about the excellence to be had here. Unusual and highly recommended." Martin Russell (Afro Celt Sound System)
"One word… Wooooaaah! ...delicious melodies, beautiful voices, groovy modern tribal patterns …." Jeremy Squazoid (Nutek Chill Records/One Chill Music)
"The whole album felt like sitting in your most comfortable chair with the sun streaming in and having the most gorgeous blissed out Sunday afternoon. Stunning production with immaculate vocals." Bruce Elliott-Smith (Grammy award winning writer)
"This is a fantastic album and one not to be missed by fans of tribal, ethno chillout." Gareth Hovey (Psy-Amb blog)
"...he continues to produce a unique fusion of world music, ambient, psychedelic, dub and classical sounds. This album will definitely appeal to fans of Orchid-Star and if your unfamiliar perhaps it's time you enlightened yourself." Woodzee (Martin De La Woods) (Sun is Shining Dub n Chill blog)
Reviews:
PsyAmb
Sun is Shining Dub n Chill
On CD:
Pink Hampster
,
Amazon
,
Beatspace
,
Psyshop
and many more
Digital:
Google Play
,
iTunes
,
Amazon
,
Beatport
,
Junodownload
,
Trackitdown
and many more
Tracklisting
1. Angel [6:46] with Samantha Ray (vocals)
2. Vignette [5:30]
3. Bridges [6:45] with Onyx Ashanti (wind controller – synths, bass, piano), Myo (vocals)
4. Unexpected Pleasures [5:05] with Helen Francis (vocals), blackbird song recorded by Geoff Sample
5. Mera Dil [8:45] with Psibindi (vocals)
6. Dhow [6:07]
7. Hasya [9:11] with Teresa Gabriel (vocals), Harmony Yemanya (flute)
8. Ami Tar Thikana Rakhini [3:26] with Sayak Mitra (vocals)
9. Blue Sky Dreams [7:47] with Teresa Gabriel (vocals)
10. Bamiyan [7:21]​
Tracks 1,2,4,6,7,10 written by Pete Ardron
Track 3 written by Pete Ardron & Onyx Ashanti
Track 5 written by Pete Ardron, Rena Biring & Latafat Ali Khan
Track 8 written by Sudhin Dasgupta and Pulak Bondyopadhyay, © Universal Music
Track 9 written by Pete Ardron & Teresa Gabriel
The title track was released on the Diversity in the Isles Vol 1 compilation, March 2016
Pete will be taking the album out live in 2017 including some gigs with Psibindi on vocals
http://peteardron.com/
https://www.facebook.com/pete.ardron.music/